This is my gear page. For those of you that suffer from major GAS (Gear Acquisition Syndrome) I've catalogued all the gear I use here and even given some links so you can pick up your own if you just can't resist it!
My top destinations for gear are:
Electric Guitars
So to start I should probably go through my collection of guitars. I have loads but I'll just list my main guitars here otherwise this page could probably crash the Internet!
PRS Custom 24 Platinum
This would be the first expensive guitar I ever owned and it will forever be in be gigging arsenal. My 18th Birthday present from my mum, purchased from Coda Music in Stevenage. I was out shopping for an acoustic and this just caught my eye so I had to try it out. It's a Custom 24 in Platinum with Dragon II's. I love this guitar, it just rocks, plain and simple! The array of sounds this guitar can achieve make it one of the guitars I use most live and even though I always take a few guitars to a gig, I have done some shows just with this. Many people keep their PRS's locked away in the case under the bed to preserve their beauty, but I think it's gotta be out there doing what it does best. This guitar is no case queen, indeed it has a couple of marks that were there when I bought it, but a guitar is made to be played, and that has never been truer than with a PRS. So perfectly engineered to do the job.
PRS Tremonti 10-Top Gray Black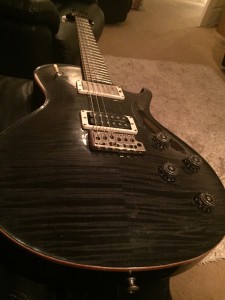 I'm a huge Mark Tremonti/Alter Bridge/Creed fan and I already have two SE Tremonti's. My USA PRS Tremonti is a 10-Top Gray Black 2011 model. It's a fantastic player and the sound from the Tremonti bridge pickup is just massive! Roll it back on the volume and it cleans up great and the distinction between the two pickups when you toggle provides a great tonal option when playing. This guitar is another serious workhorse from a great company and almost always features in my rack for a gig. The beautiful 10-Top, the hollow bird inlays, the locking tuners and PRS trem, this guitar just has it all. The only problem with this guitar is that it makes me want another one!
PRS SE277 Hollowbody
This is the first baritone guitar I have ever owned. The initial videos I saw before it's release sold me on the sound completely and I went straight out to try one. The quality and feel of this guitar is so close to the American built PRS's that I really am quite stunned. I love all the SE series guitars I have but this is easily the best one and the sound from the SE Soapbars is fantastically haunting. I am working songs into my shows that make use of the baritone so that it can feature as a regular, what an excellent instrument! Try one, you'll be amazed.
Gibson Les Paul Standard (Ice Tea)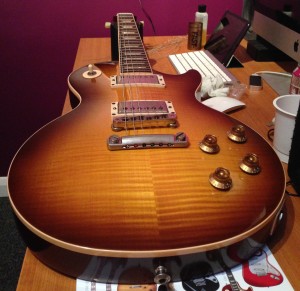 This is one of my all-time favourite guitars. I remember going to Coda Music to try a few out. When I walked in the first one I saw was this one and I thought the colour was just perfect, but obviously it's not all about that. I must have played a dozen different Les Pauls that day but this one just spoke to me the way some guitars do. It was perfect, the 50's neck, the finish, everything was just right. So that was that. The beauty of this guitar is that it just gets better and better with age.
Fender USA Standard Stratocaster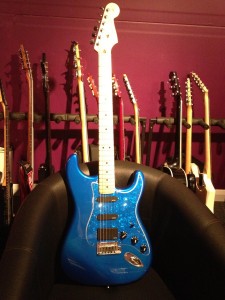 My USA Fender Strat (in ltd. edition Chrome Blue) features an EMG SA/SA/81 set as I'd never been a fan of single coils in the bridge position and now this guitar is so versatile I can get everything from Hendrix to Wylde on it which is great. The Maple fretboard is lovely as well, a dramatically different feel from the Les Paul.
Fender Mexican Standard Stratocaster
A cream/white Strat will always remind me of Jimi Hendrix. And for that reason alone, you should always have one! I did some modifications to this guitar for the previous owner but eventually he decided to move it on and I picked it up and again modified it, this time with Tonerider Alnico II Blues neck and middle pickups and a Seymour Duncan JB Jr. in the bridge. It's another really versatile guitar that is starting to feature more often in my lineup for regular gigs as an alternative to the USA Strat.
Squier Telecaster
It may seem odd to many to use a Squier alongside all these far more expensive instruments but this guitar goes to almost every gig. I bought it second hand and when I plugged it in in the shop I thought the sound was terrible but the neck was absolutely perfect! I knew I could do something about the sound because that was all just electric components so I took it home and after the addition of a Tonerider Vintage Plus lipstick, Seymour Duncan Little '59 bridge and a couple of replacement pots this guitar now gets just as much attention from the gear heads in the crowd as any other. It always makes me think back to the movie Crossroads (not the Brittany Spears one!) where Ralph Macchio (he has more chops than most karate enthusiasts!) is carrying around that cream Tele for the whole movie. It's like an icon of great blues music for me.
Pickups
Tonerider
Tonerider pickups are amazing and I very proud to be endorsed by them! They look and sound great and the price just cannot be beaten. I have loaded them into a few of my guitars and it has dramatically improved the quality of tone that I can get our of them. My white Epiphone Les Paul Custom has a Generator in the neck, which has a really liquid sound for cool lead parts and smooth rhythm chords, and a now discontinued Firepower in the bridge which is an absolute monster of a pickup great for huge bends and big vibrato squeals. My Epiphone SG is loaded with Rebel 90s, which are humbucker-sized P90s. They sound great and have turned that guitar into a real beast with a distinctive tone great for standing out from the rest of my collection.
Seymour Duncan
So many players all over the world use Seymour Duncan pickups and I'm no different. I like to try lots of different pickups but common to my gigging guitars are the '59/Little '59 and JB/JB Jr models. They really suit the sound I'm going for and offer me humbucking options in the Teles and Strats.
Acoustic Guitars
Epiphone Masterbilt DR-500MCE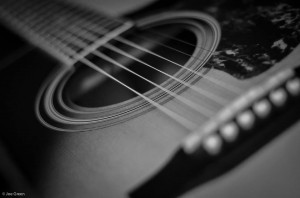 I only picked this guitar up in 2014. It is such an amazing guitar I can't believe it and the value for money is just insane. I love the finish on these Epiphones. My friend also bought one and I was surprised to note that his had more of a three-tone sunburst whereas mine has a more two-tone effect, lacking the cherry mid-point on his but I actually really like that variation. It means that no two are the same and you should go out and find the one that's right for you. The pickup configuration on this instrument make it a more diverse instrument than many single pickup acoustics I've played before. Having two outputs actually means I can run this to a PA and an electric amp to give me more tonal possibilities live without a guitar change mid-song. A truly excellent instrument and well worth trying out, especially if you were considering something much more expensive for a similar job.
Amps + Cabs
Peavey Classic 30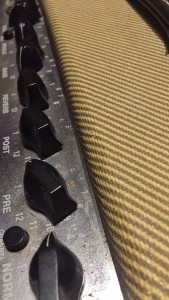 As I have got older my tastes have changed dramatically. When I was a kid the thought of owning a tweed amp and a Telecaster was just beyond my comprehension but now it just seems obvious really. The Peavey Classic 30 is a great compact, fairly lightweight and loud amp. I use it mostly for it's clean tones which are similar to many other tweed amps out there, but it does also have a great drive channel. I actually own two of these and occasionally use them in stereo which can get some great results depending on the band lineup. I usually do this when playing in a trio to thicken up the guitar sound.
Mesa-Boogie Dual Rectifier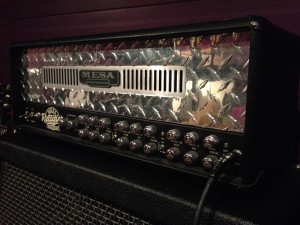 My Mesa/Boogie Dual Rec is an amp that I wanted for so long and now I have it I love it even more. It provides such a range of tones from a beautiful clean to high-gain saturated distortion that there's not much I can't get out of it.
Engl E412SSB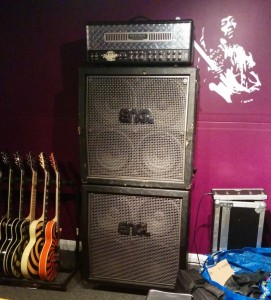 The Engl cab is loaded with Celestion V60s which give a huge bass response. I borrowed a friends Engl cab once for a gig and then when the opportunity came up to get my hands on one there was no question…now I have two!
Effects
MXR Wylde Overdrive
This is a great pedal. It can provide furious amounts of gain and is perfect to add over a distorted amp to pull off those signature Wylde squeals and pick slides. A real beast of a pedal.
MXR Carbon Copy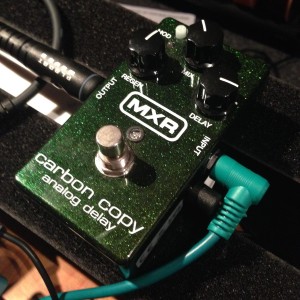 I added this pedal to my board in 2014, replacing a Line6 DL4. The Line6 pedal was great at modelling lots of great sounds and I loved the Tap Tempo feature which sadly I no longer have but the analog tone from the Carbon Copy is just beautiful. I honestly didn't believe it would make that much difference and I also tried a few other delay pedals including the TC Electronic Flashback (again hunting for that Tap Tempo) but the analog pedal just sounds so much nicer. I'm really pleased with this pedal and long may it reign on my board!
MXR Uni-Vibe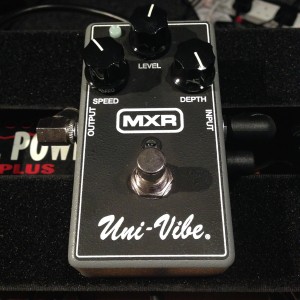 I picked this up in 2014 and it's a beautiful sound. It brings back all those Hendrix "Little Wing" sounds so perfectly that I can't stop using it.
MXR Flanger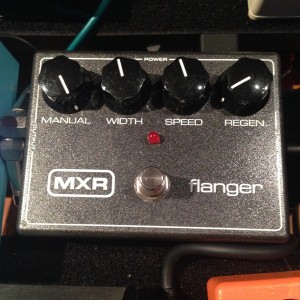 The Flanger sounds amazing with a clean delayed sound and arpeggiated chords. I tend to use this for bridge sections to thicken up the sound.
MXR Phase 90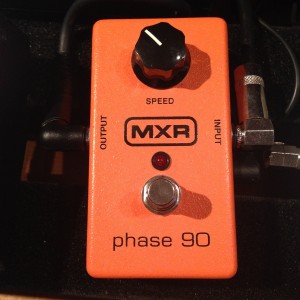 The MXR Phase 90 needs no introduction. It should be on every guitarists pedalboard, simple as! Great for playing Van Halen stuff.
Morley Tremonti Wah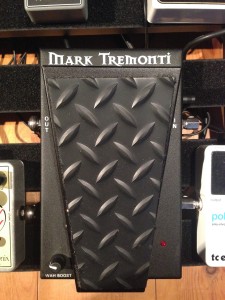 I'm a big Mark Tremonti fan, right from the days of Creed, through Alter Bridge and now also his own Tremonti project. I've also liked the "swell" effect he often uses the wah for and the auto-on feature of this pedal makes it much easier to replicate that than with a traditional click-down wah. The dB boost is always nice too when you just have to cut through everything else!
Electro-Harmonix Soul Food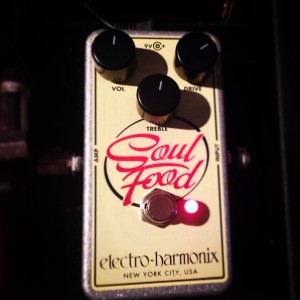 Until recently (late 2014) I'd never tried any EHX stuff. Lots of people had raved about various pedals produced but I just hadn't got round to it. The Soul Food is a beautiful sounding Overdrive pedal that can be used in front of a clean amp or a driven one and just provides a great "liquid sound", perfect for, at least attempting, Bonamassa-style tone and licks. It's really cool with a Les Paul and Marshall JCM800, dialling in all sorts of tones from the controls on the guitar. Then there's the price. This pedal was so cheap for the quality you get and on the day I was with friends and we actually bought the whole stock between us!
Electro-Harmonix B9 Organ Machine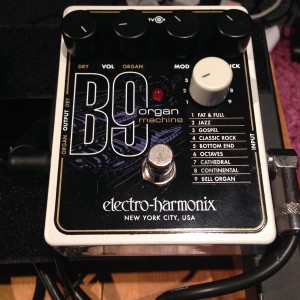 The Organ Machine is like nothing else out there! It produces incredible organ tones from your playing with very little tracking issues, unless you can play a lot faster than I can! I love that with a two-guitar band I can now add organ parts to a song and cover some of my favourite Deep Purple classics! I'm looking forward to the C9 that's coming as that adds more and supposedly some Zeppelin-esk sounds so I think that will make an appearance on my board as well soon!
TC Electronic Dreamscape
John Petrucci is without doubt a master of tone-crafting! the Dreamscape is a signature pedal designed to recreate some of the amazing tones that Petrucci has developed over the years and it does just that. I use this pedal when I want to get something quite specific as opposed to the settings on my other Flanger and Chorus pedals.
TC Electronic Polytune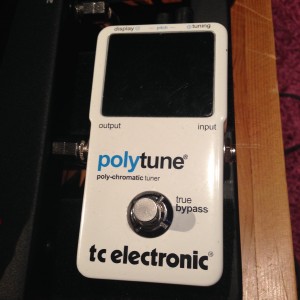 I never go anywhere without my Polytune. It's such an important pedal that is dramatically overlooked on many people's boards. It mutes my signal between tracks and it allows me to very quickly retune between songs when I need it. It's so accurate and responsive and I couldn't be happier with it.
Boss CE-2 Chorus
This is by far the oldest pedal on my board. It's from the 80's and was given to me by a friend many years ago. When I first got the Pedaltrain I went through all my pedals to decide what was going on the board and, with the help of some friends, tested out a few setups. I'd wanted an MXR Black Label Chorus for quite a long time and my friend had one so we blind-tested the two together and I realised that I'd been missing what a wonderful tone the Boss has. The Black Label Chorus is a fantastic pedal and the range of sounds it can produce is far greater than the CE-2, but for a simple, subtle chorus just to embellish the sound, the Boss CE-2 was undoubtedly better. I would probably like to still add the Black Label Chorus at some point to have that extra selection of sounds available but the CE-2 will be staying on the board for a long time I think.
Dunlop Crybaby Wah
What is there to say about this pedal that hasn't already been said by guitarists way more talented than myself. It is just a fantastic pedal. Sure it has some design issues that I would like to change but the tone is undeniably awesome and classic. Whilst my Tremonti wah is my current wah of choice, the Crybaby still gets a better Hendrix kinda sound that I just love so I do switch between them. I need to find a way to have both on the board really.
MXR DC Brick
Cool small power supply providing a lot of outputs (including 2 18V ones!) for a wide array of pedals. Perfect for use on unnecessarily large boards like mine!
Pedal Power 2 Plus
The Pedal Power 2 Plus is so diverse. It offers all sorts of extra features and can power a wide array of pedals that otherwise would require their own original power supply and make for a messy pedalboard. Brilliant and the brackets supplied with the Pedaltrain allow it to be easily mounted underneath to save space for more pedals!
Accessories
D'Addario EXL110
These are my strings of choice for most of my guitars. They sound great, feel lovely and they last very well. Recently I've been trying out a couple of sets of NYXL's and I have to say that they feel great so I do use those as well but with the number of guitars I have to restring I always keep plenty of these kicking around as well.
Pedaltrain Pro
With a lot of effects comes a requirement for a lot of pedalboard space. That's what the Pedaltrain Pro does for me! Being able to mount the power supplies underneat the board saves a ton of space and routing all the cables underneath also means I can keep the board nice and tidy to satisfy my OCD!
Picks
In my early years I tried a few different plectrums and eventually settled on Dunlop 3mm Stubby picks. They are rock-solid and pointy and small which is pretty cool because it's easy to get that grip where not too much of the pick is showing, great for pinch harmonics! After a few years I then went back to a bog standard Fender-style heavy (0.96mm) pick as I could get them printed up with my own signature design. However, I just recently got hooked on a new pick! I was at Andertons and a friend recommended a Dunlop Jazz III Max Grip. These plectrums are small body like the Stubby but thinner and made of Carbon Fibre! The theory is that they don't wear down and so far I'd say that's pretty accurate. I'm quite good at blunting a pick in a few days so I'm impressed with how this has held up so far. I'm also using the Petrucci signature ones that are slightly larger and have a shiny tip. I think they are quickly becoming my pick of choice. I highly recommend trying a few different picks out to find one that suits you but this should definitely be on your list! I also find I use different picks for bass as something larger seems more suitable.
Mics
I have one go-to microphone now. For years I used Shure SM58's because they are the industry standard but I'd always loved the Elvis-style chrome mics. I finally got my hands on a Shure Super 55 Deluxe and that was it. It's got such a great tone that I just don't get with other mics I've tried. I really think more vocalists should take the time to find the mic that suits them, just like any other musician does with their constant hunt for the right tone. It's such an important factor and I'm so glad I realised this. It's one of the most important tips I can pass on as a singer, make sure you try lots of mics and find the one that you feel most comfortable with. Also, don't put up with Sound Engineers at gigs telling you that they want you to use what's there. If you've found a sound you like you need to bring that to a live performance domain as well so they will have to like it or lump it!
For guitar amps I use Shure SM57's to mic them. Industry standard really but if it ain't broke…