Happy New Year everyone!
I'm looking forward to this year. It's started well as I'm pleased to announce that I've joined a new function band, Mr. Lazy! We had our first gig on January 1st at The True Briton in Folkestone and it was a pretty great show. The next show will also be at The True Briton on January 18th so come along and show your support for live music. All gig dates will be posted on my gig feed so make sure you sign up to that too to receive updates. I'll be putting together a dedicated site for Mr. Lazy too so I'll let you all know when that happens. For now you can like the Facebook Page for updates.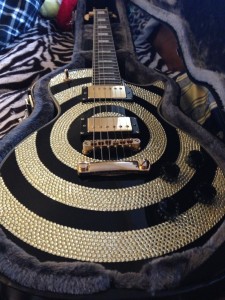 Over the Christmas period I also picked up a new toy (naturally!). It's a bit of a Wylde (see what I did there?) beast! A one-off Epiphone Zakk Wylde Bullseye customised for a trade show with Swarovski crystals. I swapped out the pickups for an EMG Zakk Wylde set I just happened to have lying around since this picture was taken and now the thing sounds just as good as it looks. Photos just don't do this thing justice, it's stunning and really catches the light around it. On stage it's probably going to be blinding so bring shades!
I've also been working on my sound and the setup to best compliment that. I'm currently using the Marshall TSL100 rig instead of the Mesa and my Pedaltrain is fully stocked with toys from MXR, Electro-Harmonix and TC Electronic. There's a bit of tidying to do as you can see but it's all good fun!
Anyway, that's it for now. I plan to be pretty productive this year so make sure you keep checking out this site and also like my Facebook Artist Page so I can let you all know what I'm up to.